Birthdays always means awesome food. The birthday deals usually allow for free or discounted food that you wouldn't normally buy thanks to the expense. And thanks to the boyfriend's 23rd birthday yesterday, I got to enjoy the birthday specials despite it not being my birthday.
Cory loves to sleep in, so brunch was around 11:30. We headed to
Angelo's
for breakfast. Angelo's is an Ann Arbor legend, and therefore the lines are usually down the block on weekends. I think we got there at the perfect time and didn't have to wait very long. The best part of Angelo's is their amazing homemade bread, whole wheat with butter. Total perfection.
As an afternoon snack, we headed to
Cake Nouveau
for Cory's free cupcake. He got a lemon poppyseed cupcake whereas I went with the simple Vanilla Beany.
It was so delicious. The owner of Cake Nouveau, Courtney Clark, is a fantastic cake design artist who has been featured on a bunch of Food Network programs. I actually stumbled upon the Food Network Challenge Last Cake Standing episode, and I am always a sucker for food network competitions, and was surprised to find that Courtney Clark owns a cake shop in Ann Arbor! Who knew! She actually won that episode that I watched with a
Finding Nemo Cake
! And I love Finding Nemo, btw. And although Last Cake Standing is more about cake design, I must say that her cupcakes are just as delicious as they are pretty.
Finally, to round out our day of food we went to
Real Seafood Company
for dinner. There I ordered the Maple Glazed Salmon which was incredible. I like salmon, but I'm usually not impressed by it when I go out to eat. This was NOT the case last night.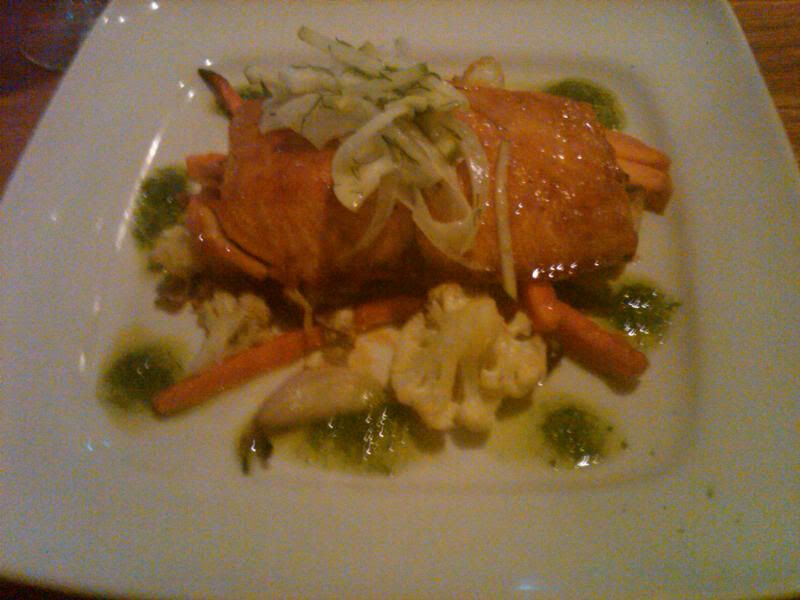 (Also, I apologize for the blackberry photos, but I didn't carry around the camera yesterday)
So all in all a delicious day with a perfect finish of Michigan hockey win remiscent of the
Big Chill at the Big House
, and cuddling up and watching
Sherlock Holmes
.